Scotts® STEP® 2 Weed Control Plus Lawn Food2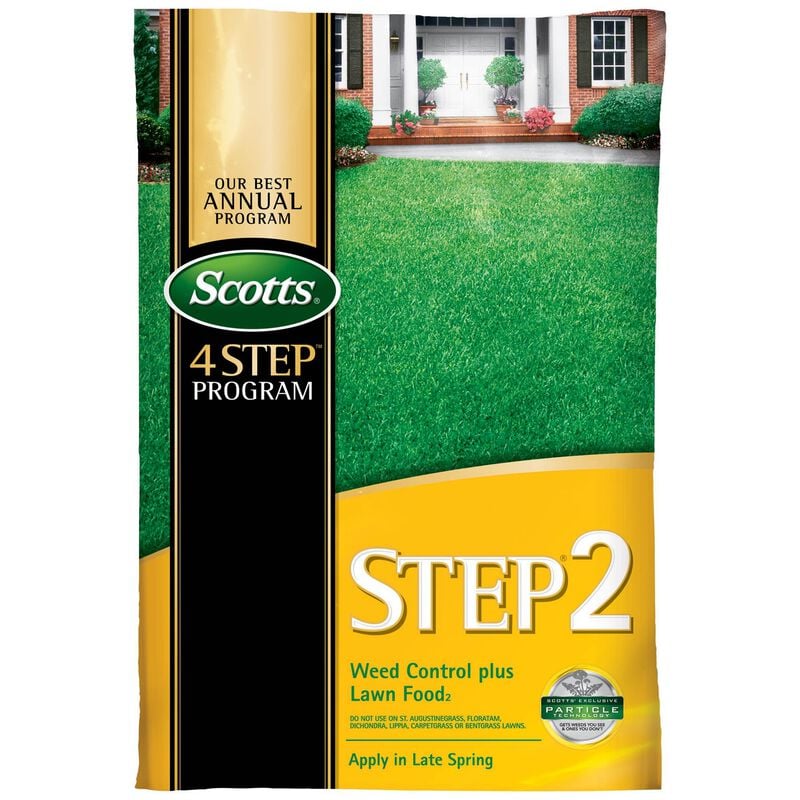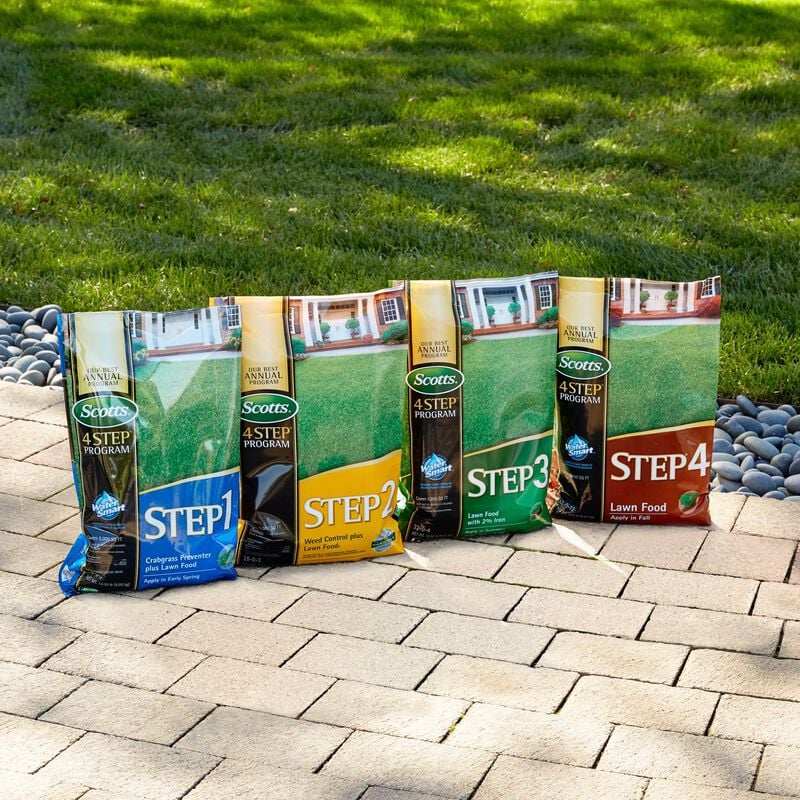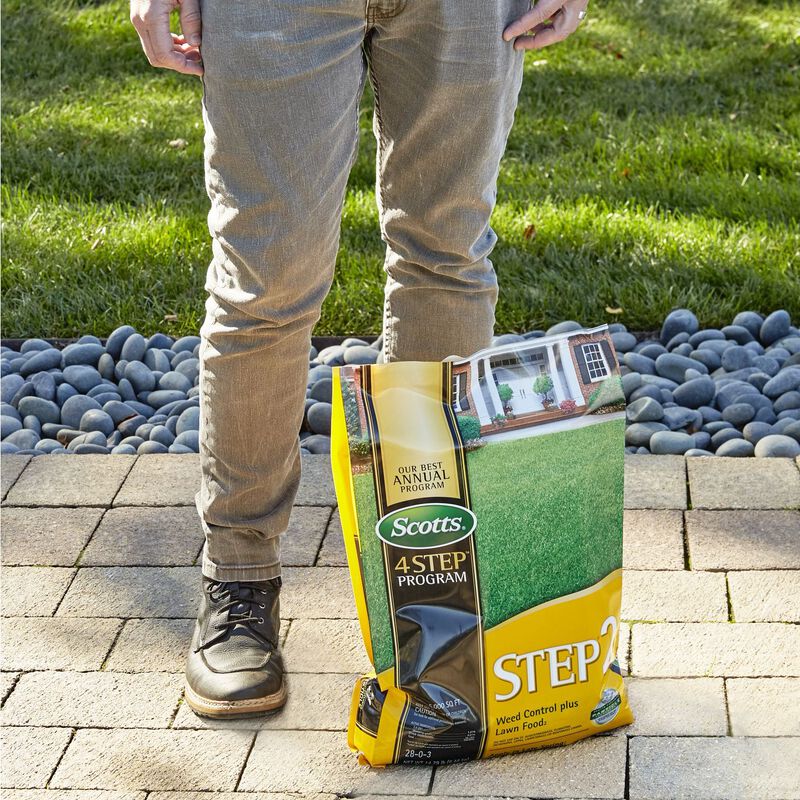 Scotts® STEP® 2 Weed Control Plus Lawn Food2
Overview
Scotts® Exclusive Particle Technology gets the weeds you see and the ones you don't
Clears out dandelion and clover—guaranteed or your money back
Builds thick, green turf from the roots up
Part of Scotts Annual Program for a picture perfect lawn
Do not use on St. Augustinegrass, Floratam, Dichondra, Lippia, Carpetgrass or Bentgrass lawns
Specs and Details
Fertilizer Analysis
Active Ingredients
1.21% 2-4D, 0.61% Mecoprop-p
Precautions
Precautionary Statements
Hazards to Humans and Domestic Animals
CAUTION: Causes moderate eye irritation. Avoid contact with eyes or clothing. Wear long-sleeved shirt, long pants, shoes and socks. Prolonged or frequently repeated skin contact may cause allergic reactions in some individuals.
FIRST AID
IF IN EYES: Hold eye open and rinse slowly and gently with water for 15-20 minutes. Remove contact lenses, if
present, after first 5 minutes, then continue rinsing eye. Call a poison control center or doctor for treatment advice.
Have the product container or label with you when calling poison control center or doctor, or going for treatment.
ENVIRONMENTAL HAZARDS: This pesticide is toxic to fish and aquatic invertebrates and may adversely affect non-target plants. Drift and runoff may be hazardous to aquatic organisms in water adjacent to treated areas. To protect the environment, do not allow pesticide to enter or run off into storm drains, drainage ditches, gutters or surface waters. Applying this product in calm weather when rain is not predicted for the next 24 hours will help to ensure that wind or rain does not blow or wash pesticide off the treatment area. Sweeping any product that lands on a driveway, sidewalk, or street, back onto the treated area of the lawn will help to prevent run off to water bodies or drainage systems. This chemical has properties and characteristics associated with chemicals detected in groundwater. The use of this chemical in areas where soils are permeable, particularly where the water table is shallow, may result in groundwater contamination. Application around a cistern or well may result in contamination of drinking water or groundwater.
Disposal Methods
If empty do not reuse container. Place in trash or offer for recycling if available. If partly filled, call your local solid waste agency for disposal instructions. Never place unused product down any indoor or outdoor drain.
Product Label
This is not the product label. Always read and follow the product label before use.
Safety Data Sheets can be found at scottsmsds.com
Description
Scotts® Step® 2 Weed Control Plus Lawn Food2 builds thick, green turf from the roots up. It uses Scotts® Exclusive Particle Technology to get the weeds you see and the ones you don't. Apply Scotts® Step® 2 Weed Control Plus Lawn Food2 in late spring for best results. Utilize the entire Scotts® 4 Step program for a better lawn.
Step by Step Instructions
How to Use
For best results, and to help particles stick to weed leaves, apply on a calm day to a moistened lawn. Lawn should be given a thorough watering or wet from dew on the grass.
When and Where to Use
Where Not to Use
RESTRICTIONS
Do not apply more than twice per year.
A minimum of 30 days between applications is required.
Apply only to grass. Do not allow granules or dust to drift onto flowers, shrubs, fruit or vegetable plants.
Do not apply on St. Augustinegrass, Floratam, dichondra, lippia, carpetgrass or bentgrass. On Bermudagrass, bahia, centipedegrass, zoysia lawns, under certain conditions, some temporary discoloration may result.
On bahia and centipede lawns, wait until after the second mowing of the year but NOT before mid-March. In the fall, DO NOT treat centipede after the first of October and DO NOT treat bahiagrass after the first of November.
Do not apply directly to or near water, storm drains, gutters, sewers, or drainage ditches. Do not apply within 25 feet of rivers, fish ponds, lakes, streams, reservoirs, marshes, estuaries, bays, and oceans.
Do not apply when windy. Apply this product directly to your lawn or garden, and sweep any product landing on the driveway, sidewalk, gutter, or street, back onto the treated area. To prevent product run-off, do not over water the treated area to the point of runoff or apply when raining or when rain is expected that day.
Watering or Rain: do not water your lawn for 24 hours after application or apply if rain is expected within the next 24 hours.
Seeding/Sodding/Sprigging: delay application on newly seeded, sodded, or sprigged areas until new grass has been mowed 4 times.
Wait at least one month after using this product to seed, sod or plant grass sprigs.
When to Apply
How Often to Apply
2nd Step in 4-Step System. Apply in late Spring no less than 30 days after Step 1 is applied.
Frequently Asked Questions
Weed Controlled
Kills dandelions and other listed broadleaf weeds.