Ortho® Killex® Lawn Weed Control - Ready-to-Spray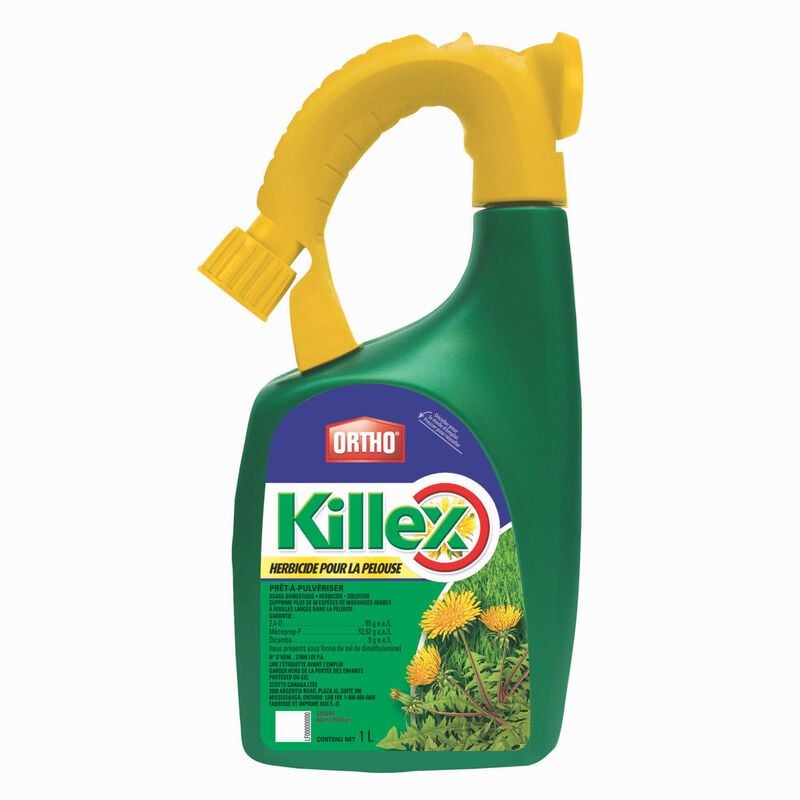 Ortho® Killex® Lawn Weed Control - Ready-to-Spray
Aperçu
Lutte contre plus de 50 variétés de mauvaises herbes des pelouses, y compris le pissenlit, le mouron des oiseaux et le trèfle. Voir le produit pour la liste complète.

- Commence à agir rapidement et continue à agir pour une destruction complète.

- La formule prête à l'emploi facilite le traitement ponctuel des mauvaises herbes, sans dégâts ni tracas.

- La buse réglable vous permet de choisir le type de pulvérisation que vous souhaitez.
Quand appliquer
Appliquer lorsque les mauvaises herbes sont jeunes et en pleine croissance.
How to Apply
1. Fixez le tuyau - raccordez le pulvérisateur au tuyau d'arrosage et faites revenir le pulvérisateur.

2. Ouvrez le système - pour pulvériser, dirigez la buse vers l'endroit où vous voulez pulvériser, repliez la languette, tournez le bouton en position 'On'.

3. Tournez et pulvérisez - pulvérisez uniformément sur la pelouse.
Where to Use
Appliquer sur les mauvaises herbes dans l'herbe/le gazon.